Using a large and growing open database of famous works of art, statuary and monuments, we model your sculpted scan right into the work itself! Now you can own a copy with your own head or face on the body of David or the Venus de Milo, or carve your family onto Mt. Rushmore!
Available 3D printed in stone, finished in a variety of ways.
1.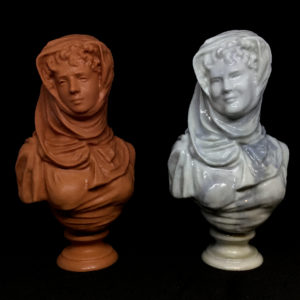 1.(L) Fantasy Bust of Veiled Woman from National Gallery of Art, Washington D.C.,
3D Printed in house in stone, shown with our terracotta finish
(R) Joy on same model, 3D Printed in house in stone, shown in our polished gray & white marble finish
2.
2.This woman chose a Rodin piece, also from the National Gallery of Art, called Bust of a Woman, the original seen on far R.
3.
3. On the far left is the cleaned up scan of a woman. She chose to be put onto the statue in the middle, which is Catherine, Princess of Wurtenburg, the original at the Dallas
Museum of Art. The final picture shows her on the museum model.
4.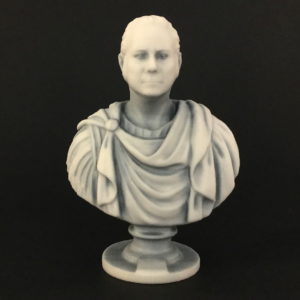 Or be a museum piece of your own styling! Masks and heads on stands reminiscent of artifacts are available in a variety of finishes as well.
Shown 3D printed in stone, then the polished copper version, and one we keep in our studio, aged copper with tiffany green patina.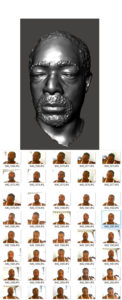 We may take many photographs of you for this process at different angles. This is called photogrammetry. Don't worry! It's fairly quick. We spin you on a turntable and take hundreds of pictures as you spin around once.