3DLIRIOUS
DE·lir·i·ous – wildly excited, especially with joy or enthusiasm.
3D·lir·i·ous – wildly excited about 3D scanning, 3D design, and 3D printing!

3DLirious is a 3D Scanning/3D Designing/3D Printing Studio in the heart of the Dallas / Fort Worth Metroplex in Texas, USA – in the center of Arlington just blocks away from AT&T Stadium, Globe Life Park, and Downtown.
We combine art and engineering, using cutting edge technologies and much more ancient ones to form deLIRIOUSly wonderful and unique creations! Every job is a custom order! We started out making personalized 3D printed keepsakes, including but in no way limited to figurines, bobbleheads, doll heads, fine art and monuments, face masks, and chess pieces, but by now, we also turn sculptors' work into finished products with real metal/other coatings and wood bases, make mold masters and molds, gears, handles, and often fix broken things by recreating missing/damaged parts- and so much more!
Every job is custom, so you may not see an example of what you need on our site. In addition to the products listed below/on our website, we take on all kinds of interesting custom jobs. We
3dscan

all kinds of things using a few different methods depending on the object. Feel free to contact us by text, email, or phone and talk to us about what you have in mind. We'll see what we can do to help!
TO BE 3DSCANNED (person):
We require that you make an appointment if you are wanting to be 3D scanned in our studio. But many days you will find our showroom is open between
about 10 am

and

7:30 pm

so you can take a look in person and see what our store has to offer. We are

usually closed on Sundays

, but you can email us at the address

3dlirious@gmail.com

, use the contact submission at the bottom of this page, or leave a message at

(682) 703-0335 via talk or text

, and someone will get back to you either the same day or next. While you wait to hear back, follow us on Instagram or check out our Gallery page for more examples of our work.

https://www.instagram.com/3dlirious/
Products
Click on the images below to view additional details and selections
---
3DPortrait Scanning Process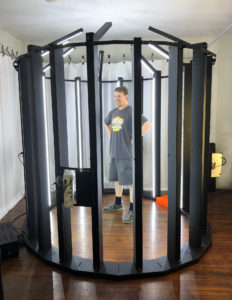 Our scanning technology for most people and some projects uses a process called photogrammetry. Within 1-3 seconds, a set of 125 photos is taken simultaneously, followed quickly by another set of 125 while 4 projectors cast a grid pattern onto the subject to help with photo alignment. From this data and some clever software, a detailed 3D model is processed.
You will need to hold still for up to 3 seconds for each scan. Please note that this means that we are now usually able to scan pets and small children (under 5). However, the pet should be able to pose, sit, or keep still for a short amount of time, or perhaps could be held by the owner.
A typical scanning session for a full length scan or bust will last about fifteen minutes or so. You may want to plan on staying longer in order to view the showroom and figure out what you want to order first!
Clothing with rough fabric textures and non-dark colors scan the best, such as mottled/patterned fabrics, difficult patterns, bright colors, blue jeans and linen, velour or matte leather.
Shiny, reflective and transparent surfaces don't scan well, including eye glasses, nor do glossy or transparent fabrics. Avoid sequins, tulle, chiffon, super-shiny shoes, and flashy jewelry if possible, or other items as requested at the time of scanning.
Raw scans typically have features that make them unsuitable for 3D printing, such as surfaces that are too sharp, thin, or rough, or areas that were not captured in enough detail. Difficult to scan features such as hair and some clothing can be especially problematic. Our digital artists go over each scan and correct any issues, remodeling and sculpting where needed. Color data is corrected, balanced, and repainted if necessary.
---
Contact us
To book an appointment for a scan and consultation, or if you have any questions or comments, please contact us by phone, text or email (see the bottom of the page for contact details), or using the form below.